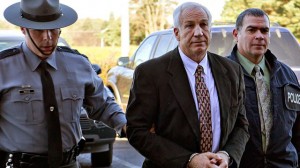 As Penn State University opens a new chapter in its history by naming Bill O'Brien as the new football Head Coach, we here at Boom Bap Radio unveil the winner of our December and the 2011 Douchey McDouche Bag Award.
When we started this award just six months ago, we would have never guessed that someone could be so douchey that they would not only secure the award twice, but also win it for the whole year.
But then along came former Penn State University Defensive Coordinator Jerry Sandusky and his 52 count indictment for child molestation – a real "winner."
Arrested twice, jailed twice and released twice on pedophilia charges, deuces were friggin' wild for this alleged sexual predator.
Coach Sandusky was the November winner of our coveted award, but cemented his place as the winner for the month of December when he waived his right to a hearing in order to avoid personally facing his 10 accusers.
Now dogged by the media and the law, this perv admits to partaking in naked hugging sessions in the shower with children, but cannot understand why anyone should have a problem with his special method of "giving."
The scandal cost legendary Coach Joe Paterno, the winningest coach in Collegiate Football history, his job, as well as the school's President and Athletic Director and subsequently turned the Penn State University college campus into Not So Happy Valley for thousands of rioting students.
But, for smiling, happy-go-lucky Jerry, the self-professed "Big Kid," the firings and riots are just collateral damage from more than two decades of "lies," – from his accusers.
In case you've been living under a rock or something, we're talking about Coach Jerry Sandusky, who was charged with 52 counts of child sex abuse in November 2011 and introduced the term, "rhythmic slapping," into the American lexicon. He also ran a non-profit that cared for abused kids, that it appears he also used as a dating service.
Let's recap – shall we?
1998 – Pennsylvania District Attorney Ray Gricar chose not to prosecute Sandusky after allegations arose regarding the coach taking a shower with a 11-year-old boy. Charges were never brought against the then assistant coach, despite recorded telephone calls between Sandusky and the boy's mother, who begged the coach to stop taking showers with her son. The case was closed and 7-years later Gricar mysteriously disappeared. His empty car and destroyed computer were found, but Gricar's body was never located.
1999 – Coincidentally, Coach Sandusky retired from Penn State, but continued to hold emeritus status, which gav him access to team facilities.
2000 -Â  A temporary employee/janitor reports observing Sandusky performing oral sex on a boy at the Lasch Field House on the Penn State campus. The incident it reported to his supervisors, but no formal charges are lodged.
2002 -Â  Assistant Coach Mike McQueary reports allegedly seeing Sandusky engaged in anal intercourse with a boy estimated to be 10-years-old. The incident is reported to Head Coach Paterno and the Penn State Athletic Director. Sandusky is never questioned by police, but his locker room keys are revoked and the matter is reported to his charity for abused children – The Second Mile.
2008 – While working at Clinton County High School, a mother reports the alleged sexual assault of her son, who has been affiliated with the coach. Sandusky is later barred from the school district.
2009 – Pennsylvania Attorney General begins to investigate the coach when a Clinton County, Pa., teen boy tells authorities that Sandusky has inappropriately touched him several times over a four-year period.
2010 – Coincidentally, Sandusky retires from The Second Mile non-profit agency for troubled youths.
2011 – The media reports that Sandusky has been the target of an 18-month Grand Jury investigation into allegations of child abuse.
Wow – what a string of "random" coincidences – huh?
The most recent investigation caused Penn State officials to question who knew what and when. Ultimately, all roads led back to Joe Pa, who appears to have invoked the Blue Wall of silence since the 80's when it came to his longtime defensive coordinator.
Despite mounting evidence and an avalanche of accusations, Coach Jerry said he will continue to fight for four quarters. He even enlisted the help of his wife, who does not recall any of the young boys who spent the night in the basement with her husband as being in distress or forced to stay.
So why, oh why does Coach Sandusky become the two-time winner of our coveted red rubber douche bag and hose?
The allegation of raping children is disgusting and unforgivable. However, the additional fact that everyone associated with Sandusky continue to lose their jobs while he continues to be unapologetic, brings a level of douchiness that can only be attained by a special kind of coward.
So, unless everyone really did make up all of those unthinkable charges, we at Boom Bap Radio have turned our wonderful Douche Bag into a crystal ball and can see the future. We predict Coach Sandusky's dance card will be full where he's destined to go.
We expect full on sprints through a proverbial cornfield – backwards. We further expect Nasty Nate will demand a heaping helping of your cocktail – fruit!
So congratulations Coach, besides a warm seat in Hell, you've also won the top douche bag award for 2011; you nasty, leg touching, lecherous, shameless douche bag!
Each month we at Boom Bap Radio will bestow "The Douchey McDouche Bag" award on the biggest dickheads in the news. This category is not limited to politicians or entertainers or even athletes, there's room for everyone on this bench.
However, each month one person stands out as the absolute winner of our coveted prize.
The award is based on the name I gave a menial worker from a big box department store, who insisted that my item was no longer in stock without looking. This douche actually made me order the item online and had a whole five-minute explanation of why the product was not available days after Christmas. Evidently it was shipped back to some remote warehouse over the hills and far, far away.
Imagine my surprise when about an hour later, while walking to the other end of the store, I found piles of my item, neatly stacked and very much available.
So, this one goes out to that collared shirt wonder, who obviously knew nothing, but before he knew a whole friggin' lot "Douche Bag!!" Hey dickwad - this award  goes out to you - Douche!!!