Each month we at Boom Bap Radio will bestow "The Douchey McDouche Bag" award on the biggest dickheads in the news. This category is not limited to politicians or entertainers or even athletes, there's room for everyone on this bench.
However, each month one person stands out as the absolute winner of our coveted prize.
The award is based on the name I gave a menial worker from a big box department store, who insisted that my item was no longer in stock without looking. This douche actually made me order the item online and had a whole five-minute explanation of why the product was not available days after Christmas. Evidently it was shipped back to some remote warehouse over the hills and far, far away.
Imagine my surprise when about an hour later, while walking to the other end of the store, I found piles of my item, neatly stacked and very much available.
So, this one goes out to that collared shirt wonder, who obviously knew nothing, but before he knew a whole friggin' lot "Douche Bag!!" Hey dickwad - this award  goes out to you - Douche!!!
 
March 2012 Douchey McDouche Bag Award Winner
In March we were hit with a conundrum – do we just award an obvious douche bag with our prize or should we also award the system that was supposed to bring him to justice?
First we are recognizing a Douche Bag who actually did all of his dirt in February, but the stench from his dastardly act was so pungent that it permeated and infected the entire legal system and like a funky snatch, it lingered into March.
We, of course, are talking about that national Douche Bag – George Zimmerman and the legal system in Sanford, Florida, which, equipped with a new law, could not get out of its own.
Zimmerman, a neighborhood watch captain, joined our "winner's circle" when he calculatingly confronted a 17-year-old, unarmed Trayvon Martin and then blew him away.
The murder has drawn national attention and led to protest marches and demonstrations throughout the country and cyber space. However, despite the death of the young, unarmed Martin, this obvious crime did not cause the same outrage in the Florida law enforcement community or result in a timely indictment or charges against the 28-year-old Zimmerman, who went looking for trouble, found it and killed it.
In case you've been hiding under that same rock, the murder of Trayvon Martin occurred on February 26, 2012 as the teen walked through a gated community where his Dad lived and drew the ire of Zimmerman, who thought he, "looked suspicious."
It took authorities 45-days to finally arrest and charge Zimmerman with second degree murder. However, it was that month and a half wait that put the "f" in this clusterfuck.
From the second Martin was killed until the night of April 11, 2012, it appeared law enforcement authorities simply refused to enact the basic components of the American legal system, which largely arrests people suspected of murder, especially if that suspect admitted to murdering the victim.
Martin died from a gunshot wound to the chest which came following a fight with Zimmerman, who had followed him in a car and then on foot before blasting him.
While Zimmerman has defined the shooting as being in self-defense, no one can answer what actions Martin participated in that caused him to be tracked down and shot even though he had no weapon.
Some have even had the nerve to suggest the shooting may have been racially motivated because Martin was Black and ultimately murdered by a White and Hispanic dude who may have been scared of the hooded teen.
Whatever the case may be, Trayvon Martin made several unwritten mistakes that may have put him in harm's way.
It appears Trayvon's first mistake was he wore a hoodie, evidently a big "no-no" for anyone Black or Latino; second he possessed a pack of Skittles and an Arizona beverage; probably some weapon of mass destruction that only Zimmerman knew about, and thirdly – he bought that candy and a soft drink to a gunfight – a tragic faux pas.
Because people obviously can't just drive around in their cars, defy police orders to stand down and then merck someone – arresting the gunman should have been a slam dunk – right?
Well obviously not in Florida. Thanks to the "Stand Your Ground Law," it appears such a blatant act of aggression may or may not land you in jail.
Zimmerman was brought in for questioning following the shooting, but he was released with the alleged murder weapon and his permit to carry.
This is when the absurdity and the American legal got thrown down the shitter.
Martin was taken to a morgue and labeled as a John Doe following a police drug and alcohol test. In fact, police reportedly did not talk to Trayvon's parents until more than three days later after his father went looking for his missing son.
Authorities later requested an arrest warrant from the State Attorney, but the request was overruled.
Law enforcement ultimately lost track of Zimmerman and seemed content to let everything fade off into the sunset. Then in early March, the lack of legal activity caused the public to take to the streets and call for a formal investigation.
Without any push to arrest Zimmerman and a general lack of effort by law enforcement, the search for justice went viral like a bad 21st Century knock, knock joke.
Trayvon's hooded likeness seemed to be everywhere and his picture served as a rallying call for a more thorough investigation into the murder.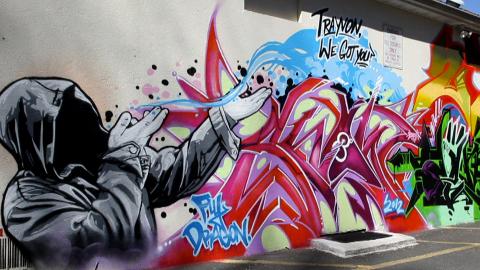 Despite the calls of students, political activists, entertainers, politicians and the masses, officials in Sanford and Seminole County refused to charge or further investigate Zimmerman. Elected officials wore hoods in support of a closer look at incident, President Obama even called for a more thorough investigation of the matter, but no charges have been filed.
With the internet and the media serving as a literal court of public opinion, things got even stranger as everyone seemed to weigh in on the shooting.
Spike Lee mistakenly re-tweeted an errand address and caused an uninvolved family to be harassed by the public. The film director actually ended up settling the matter out of court.
Rallies were held across the country by everyone from Rev. Al  Sharpton, the New Black Panther Party and the Neo-Nazi's
However, what made this matter douchiest was the lack of obvious action by authorities, who seemed unwilling to do the minimum. They changed police chiefs, changed prosecutors, but somehow couldn't manage to bring in a suspect who admitted to shooting an unarmed man.
Then the media became the story.
First Fox political pundit Geraldo Rivera weighed in and blamed the victim for his dangerous fashion choice. Then MSNBC released an altered 911 tape that, in exchange for something wacky like charges and an arrest, coverage focused on the tape and what was said and inferred by the tape as opposed to the fact that one citizen was allowed to walk free after openly shooting another citizen.
As Martin's family and the general public pushed for justice, Florida dawdled and one bullet riddled police car later, Zimmerman emerged from his hiding place to face the music.
Not since the days of the wild, wild west had we seen a murder case like this one. For those 45-days, it seemed all that was missing was a marshal, posse and murderous lynch mob.
Law and order was restored when a new sheriff, err, prosecutor was appointed by the governor.
Special Prosecutor Angela Corey weighed the facts at hand and finally brought an end to this douchey miscarriage of justice by simply doing the obvious – arresting the gunman and letting the legal system and hopefully a jury determine the fate of George Zimmerman.
And Oh, BTW
We would be remiss if we didn't send a special vinegar and water shout out to good 'ol Geraldo Rivera and his astute synopsis on how clothes really makes the man.
Dude, your own son did everything but give you our award for your rant about how Blacks and Latinos should send out a community-wide moratorium on wearing of hoodies. Not only is this ridiculous, Mr. Rivers, but everyone knows that what one wears has little to do with perception by ones oppressors.
As it has been pointed out, Dr. King and Malcolm X were wearing suits when they were shot, somehow I don't think hate consults with the fashion police.
Ironically, the original Boyz in the Hood, only wore their's in secret, yet it didn't stop them from breaking your nose back in the back in the day with a chair – nope, we didn't forget.
So for the month of March we not only bestow this honor on George Zimmerman, but also the faulty version of justice they seem to be running down there in Sanford, Florida.
When a murder arrest takes 45 days – it not only is an injustice to the victim, but also to the accused, who without the protection of the legal system is forced to fend for himself.
Shame on you Florida, for failing to provide the accused with the immediate opportunity to be judged by a jury of his peers or at least be protected by an armed sheriff.
And for you George, I know you almost got knocked the F out by a teenager, but shooting an unarmed man has never been tolerated in this country. So cool your heels for a while, because you're the Boom Bap Radio Douchey McDouche Bag champion for March 2012.
Where you obviously went all vigilante on a kid, I'm sure your new playmates and hopefully the legal system will bring you a measure of justice that young Trayvon Martin never enjoyed – you prejudging, frightened, stalking – douche!